Barnamarketing is a multidisciplinary consultancy which original name was MIXCOM Internacional, when it was founded in 1992. Four University companions decided to found it to give a professional character to their activities of marketing and international trade consultancy and training, as well as their activities of importing sports and fashion good import.
As the time went by, Barnamarketing expanded and began to offer professional services to create IT products and managing events: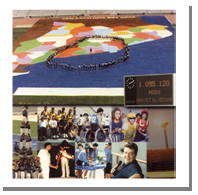 Social and sports event
"Fem Catalunya més gran"
Creation of the biggest puzzle in the world for Fundación de Ayuda al Deporte de Minusválidos (FUNDADEMIN)..

Sports event
"Superbowl"
World record of enrolled teams during 1997 and 1998 in the international Futsal Championship.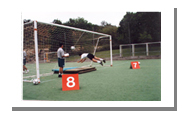 Sports event
"TALENTO 98 del Mundo deportivo"
Football single skills competition.
Barnamarketing is divided nowadays in two big areas: Consultancy & Training.
Our philosophy has always been and is still nowadays to count on an own human team and with external collaborators with a strategic global viewpoint of the business. Some of our former employees are nowadays working in important companies, consultancy companyes and state-owned companies in their countries with Direction positions. Some of our current and former employees and collaborators are from Colombia, Mexico, Peru, Chile, Uruguay, Brazil, France, Norway, Tunisia or China.
Barnamarketing was prizewinner of the First Social Marketing Prize by the Escuela de Marketing y Administración de Empresas de Barcelona ESMA in 1998, and became Marketing Leaders Finalist in 1997, a prize awarded by the Club de Marketing de Barcelona because of the project "Fem Catalunya Més Gran", developed for the phisical disabled associations.